Download Lync for FREE
If you already have office or want to install Microsoft Lync as a stand alone application you may download it as a current EIT student. Below are some instruction guides to explain how to install Lync to your computer and a list of the other Lync downloads.


Installation instructions:
Lync 2013 Windows installation instructions
Lync 2011 Mac installation instructions
Lync for mobile and tablet installation instructions
Windows Lync 2013 downloads:

Microsoft Lync 2013 Download (32-bit)
Microsoft Lync 2013 Download (64-bit)

Mac Lync 2011 download:
Microsoft Lync 2011 Download (Mac)
If I have a Windows computer, which download should I use?
1. To find out what kind of operating system you are using, click Computer on your desktop.

2. Right click and choose Properties.
3. A screen will appear telling you information about your computer. Under the system heading, you will see what system-bit operating system you are using. Choose the appropiate download link from the top section.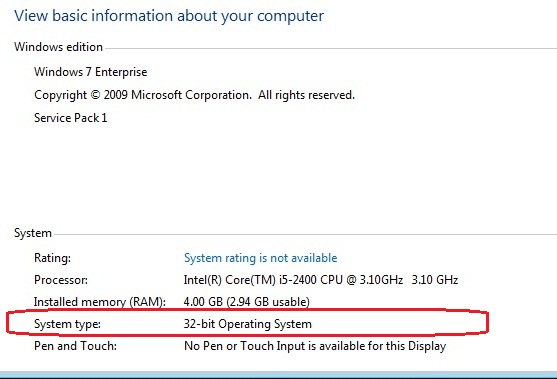 What are the minimum specifications for Lync to work on my computer or laptop?
Windows:

System component

Minimum requirement

Computer/processor

Intel Pentium 4, AMD Athlon 64, or equivalent

Memory

2 gigabytes (GB) of RAM

Data and Voice

Minimum 1.6 gigahertz (GHz) or faster processor. We recommend 2.0 gigahertz (32-bit or 64- bit).

Display resolution

Graphics hardware

1024 x 768 required

Support for Microsoft DirectX 9 application programming interface
128 megabytes (MB) of graphics memory (minimum). We recommend 256 MB of graphics memory.
Windows Display Driver Model driver
Pixel Shader 2.0 in hardware
32 bits per pixel
Mac:

System component

Minimum requirement

Computer/processor

Intel only

Memory

1 GB of RAM or more

Data and Voice

Compatible microphone and speakers, headset with microphone, or equivalent device
Sample devices include a built-in Apple iSight webcam and other external devices that are compatible with Mac OS X

Display resolution

Super VGA 1280 x 800

Operating system

Mac OS X v10.5.8 (Leopard) or a later version including Mac OS X v10.6 (Snow Leopard) and Mac OS X v10.7 (Lion)

Other requirements

Safari version 5 or Firefox version 5 or higher for a new Lync for Mac feature to work, Meeting Join.
Office for Mac 2011 for new integration features
A broadband internet connection is needed
Having trouble installing Lync to your computer?
If you have any queries, contact either IT Services helpdesk 06 974 8000 ext 4357 or EIT Libraries, Twist Library 06 974 8000 ext 6045; Tairāwhiti Library 06 869 0835