Finding appropriate resources amongst the mass of information available is not always easy, but making use of the resources and assistance available here will make your efforts far more effective and successful.

Before you begin searching for information ensure that you have correctly identified the subject or topic you require information on and what you are required to do with this information (outline, explain, compare/contrast, etc.). Refer to the Analysing the question guide if you require help with this, or see one of our Learning Advisors.
Research Guides
Library Search Tools
Search Tips (Searching for Resources)
Books - Finding a Specific Title
- Finding Books on your Topic
Primary / Secondary Resources
---


Information resources on this subject can be found in the following locations.
| | |
| --- | --- |
| 363.125 | Vehicle safety |
| 388 | Transport, Trucks |
| 629.28 | Driving, Truck maintenance |
---
If you require further help with finding information please ask at the desk or contact your Subject Librarian.
Jenni Robinson
ph| (06) 974 8000, extension 7810
email| jrobinson@eit.ac.nz
Select EIT Libraries to search across our print collection. Select All Resources to search across our print and electronic collection.
Use Primo instead of searcing across all the search tools one by one.
Use the limiters on the left to reduce the number of results (e.g., limit by resource type or date).
Refer to Search Tips for help improving the efficiency of your searches.
Credo finds overviews and summaries and is useful when you are unfamiliar with a topic.
Often contains multiple entries on a topic (unlike Wikipedia). This allows you to gain a rounded understanding of your topic.

Cick on an image below for print versions of the APA Referencing Guides.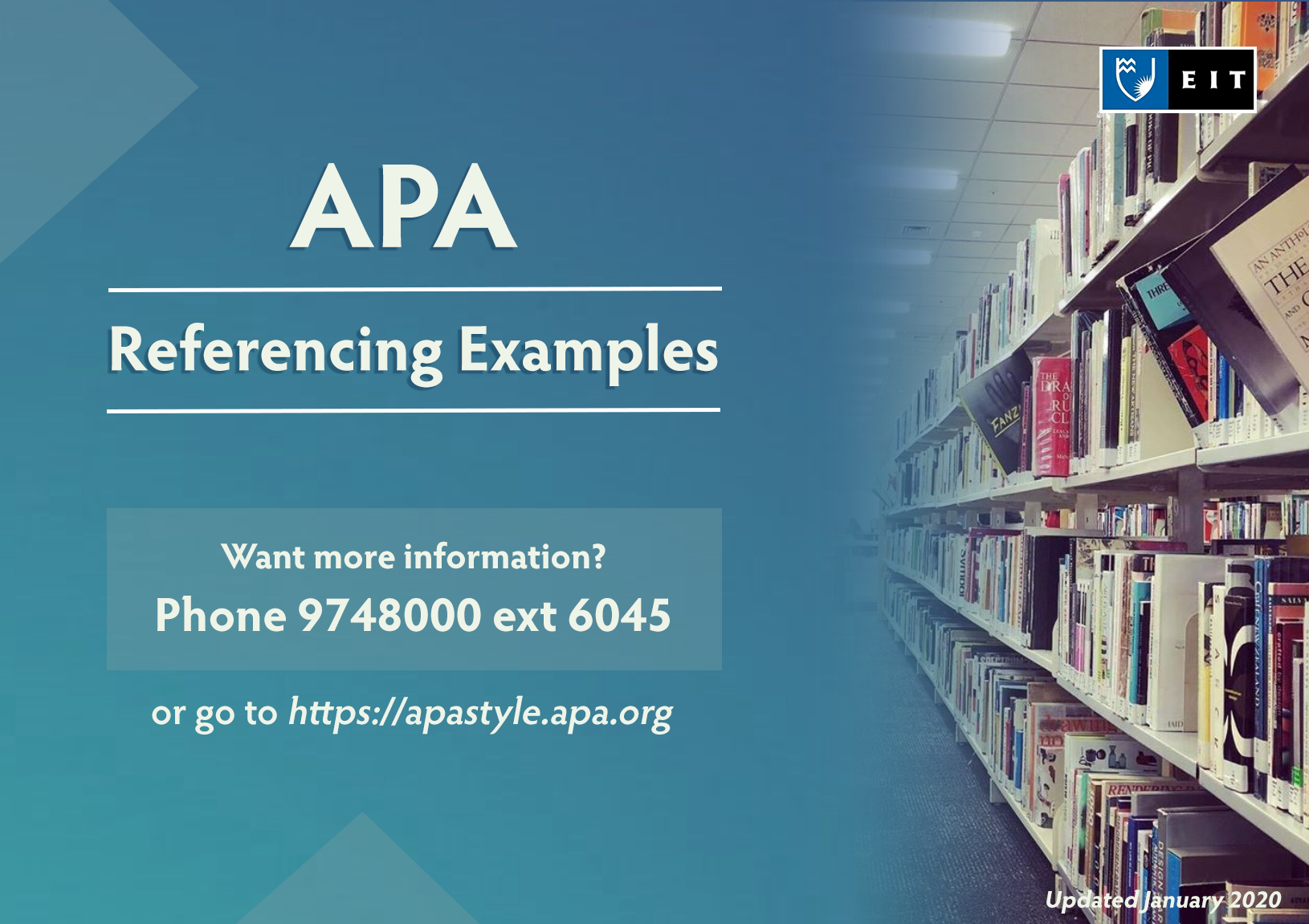 Instructions Examples A Brief Guide
For further help with APA Referencing ask at the Library desk to make an appointment with a Learning Advisor or fill out an online form.

Click here for the full list of Study Guides.
If you need help with your assignment writing, maths or ways to study ask at the library desk to make an appointment with a Learning Advisor or fill out an online form.