Microsoft PowerPoint is an electronic presentation program that helps people present a speech using a collection of slides. A PowerPoint presentation is a collection of slides that can be used to create oral presentations.
This is the standard first slide of a PowerPoint presentation.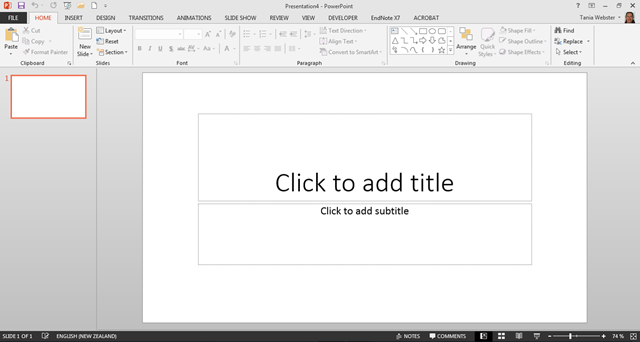 Inserting a New Slide
Home << New Slide

Choose the Layout required, the layouts are pre-set but can be customised as needed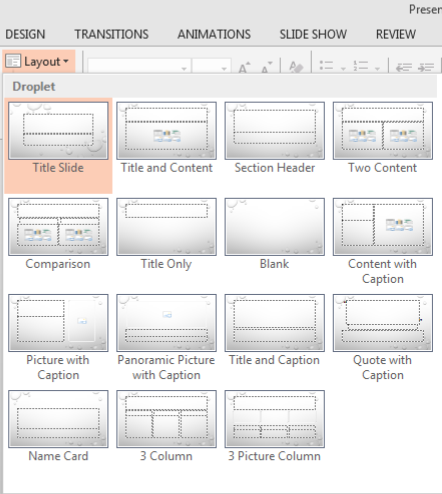 Selecting a Slide
To select a slide, click the slide in the slides panel (a thick borderline appears around the slide).

Views
There are four different views in Powerpoint:
• Normal
• Slide sorter
• Notes page
• Slide show
Each view is used for a different step in creating your Powerpoint presentation.
Normal View
View >> Normal
This view is used when creating and designing your slides.
NB: This view can also be altered using the icons at the bottom of the page on the task bar.
Slide Sorter View
View >>Slide Sorter
This view is good to use when organising your slides. Use when you want to delete, copy, paste or move your slides.
Deleting a Slide
Select the slide that you would like to delete and press the Delete key on the keyboard OR right click on the selected slide and select Delete Slide from the menu.
Copying a Slide
Select the slide you would like to copy, right click on the selected slide and select Copy from the menu.
Pasting a Slide
Position your cursor where you want to paste the slide (eg. between 6 & 7) << Ctrl + V
Moving a slide
After creating a Powerpoint presentation you may decide to change the order of your slides. Select the slide you wish to move (a border will appear around the selected slide), and drag the slide to where you want to reposition it and drop it into the position. The slide number sequence will automatically update.
Slide Show
Slide Show >>From Beginning
It shows your presentation in full screen. It can also be used to check any animations, transitions or timing at the final stage of preparation for your presentation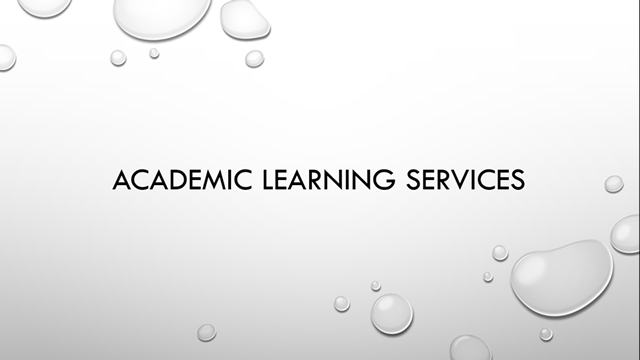 NB: Press ESC key to return to normal view.
Notes Page
View >> Notes Page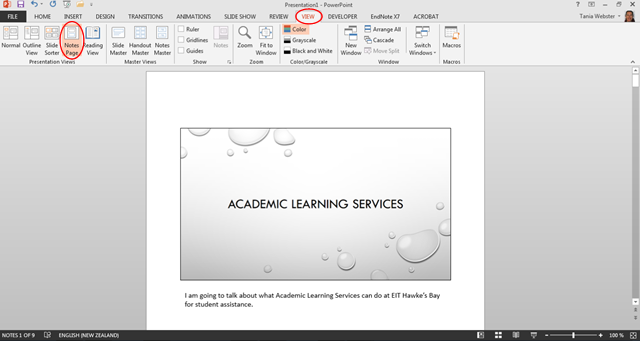 NB: You can add and view your notes for each slide.