Counting the number of words in your document
Microsoft Word can count the number of words in your document while you type and can also count the following;
Pages
Paragraphs
Lines
Characters, including or excluding the spaces
Count the Words as you type
When you type in a document, Word automatically counts the number of pages and words in your document and displays them on the status bar at the bottom of your Word document.
NB: Sometimes the status bar doesn't appear, if this occurs, right click on the status bar << select Word Count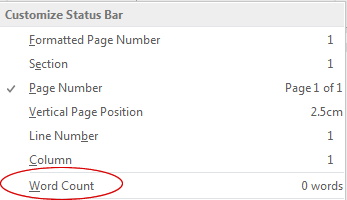 Count the Words in a sentence or paragraph

You can count the number of words in selected text rather than all of the words in your document.
Simply select the text with your mouse that you want to count.
The status bar shows you the number of words in the selection.
153 of 2944 words means that the selected text accounts for 153 words out of a total number of words in your document, 2944.

NB: If you have multiple paragraphs within your document you want to count, hold the CTRL key down on the keyboard and select these parapgraphs using your mouse. This will show you the word count for only those selected paragraphs.