Journal articles are a great source for:
The most recent scholarship on a topic
Information on specific aspects of a topic
Research findings
If you are not sure if a journal article is what you need, check the Library Search Tools guide to help determine what resource might be best for you.
Where to find journal articles
Subject databases

Found in your Subject Guide or in the alphabetical list of databases.
Subject focused with beter functionality and more limiters than Primo, which will help to keep your results more relevant.
You may have to search a number of databases to ensure adequate coverage of the available literature.
Google Scholar

Usually returns a large number of results, which can mean a lot of sifting to get to the articles you need.
What Google determines to be scholarly may not always accord with what is considered scholarly in the academic community.
Does not have as good search functionality and limiters as the subject specific databases.
Does not index all journals. You may be missing out on vital literature.
Can be a good way to discover relevant subject specific databases as it links through to these when accessing the full-text.
See our Google Scholar Guide to find out how to set it up to provide access to full-text articles.
Conducting your search
When searching the above resources, analyse your topic and break it down into relevant keywords. The more on topic your keywords are, the better your results will be.

See our Searching Library Resources for help using keywords and constructing an effective search.

If you are unsure of the correct terminology to use, look up your topic on Credo or Wikipedia to find relevant keywords.
If you have already found literature on your topic, it may help provide you with relevant terminology and other information such as theorists or authors that you may want to use in your searches.

This can also be a good way to improve your searches; by checking the abstracts and subject terms in articles you do find to see if there are other relevant terms you can use.
Enhancing your search (in subject databases)
By default, most databases will search the full-text of the indexed articles for your search terms.

You can restrict your search to certain fields, such as title, abstract, or subject, by using the drop down option at the end of the search box.
You will usually have to select the advanced search option for this.

Some databases may have specific subject terms that you can incorporate into your searches. Look for a Subject Headings or Thesaurus button which will let you search for terms relevant to your topic.
Alternatively, if you find an article that is particularly relevant, you can check the subject terms it is indexed with and use them to find other related articles.
Using limiters
The above mentioned resources have, to a greater or lesser degree, limiters that help to keep your search more focused.

Subject databases usually have a number of limiters, often specific to the subject, whereas Google Scholar pretty much only provides a date range limiter.

Limiters can be applied at the time of searching and/or after searching for your keywords.

Selecting advanced search normally allows you to apply limiters at the time of searching (if they are not already displayed). They will then be displayed below the search windows.
After searching, limiters can usually be found on the left or right hand side of the screen.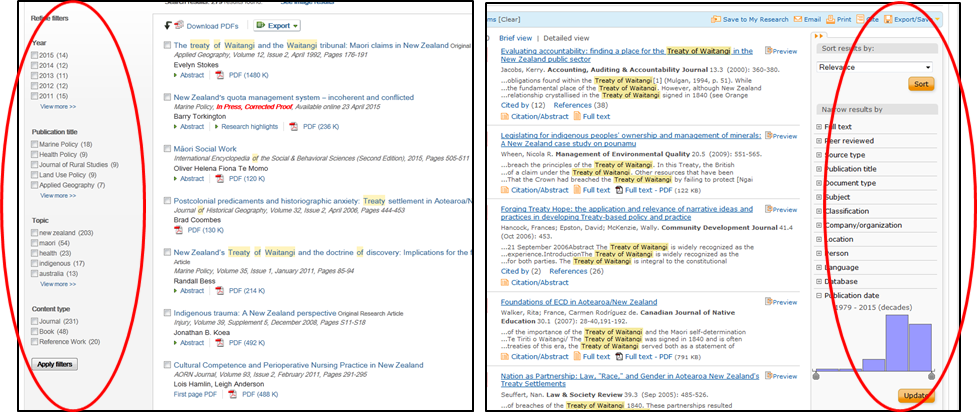 What limiters are available will differ between databases, but common ones include:

Resource type – there is likely to be other types of content available. Use this to restrict results to articles or other resource types available.
Peer reviewed – articles that have been checked by experts in the field providing a higher measure of credibility.
Subject/Topic – limit results to ones focusing on the selected subject.
Full-text – exclude articles that are not available through the database.
Date – select the date range that is relevant for your topic. You can also sort your results by date if you want the most recent scholarship displayed first. This option is usually at the top right of the search results.

Explore the databases in your Subject Guide to see what other limiters they may have.
Most databases have similar functionality. If you find one which is difficult to navigate, check the respective help menu or speak to a librarian.
Using the help menu should also inform you of other features and search options that may be available in the respective database.
Evaluating your results
If you have implemented the above advice then hopefully you will get results that are useful for you. If they are wide of the mark then you probably need to rethink the keywords you are using and/or how you are combining them. Refer to the Searching Library Resources for help with this.
If your results are too broad in scope or you have too many…

Try adding an extra keyword or change the keywords you have to more specific terminology.
Make use of the available limiters (see above).
Try searching in specific fields or using subject headings (see above).

If you only get a few results or they are too narrow in scope…

Are there any keywords you are using that are too specific and could be replaced with a broader terminology? For example, "social media" rather than Twitter or Facebook.
Are there any keywords that might not be necessary to include that are making your search too narrow in scope?
Are there limiters applied that might be restricting your results too much?
Are there synonyms you could include using OR? For example, teenagers OR adolescents.

You may also need to try another subject specific database. Check in your Subject Guide.
Obtaining articles
In Primo click the View Online button and then Open source in a new window.
This will link through to the database where the article is located. Take note of the database for referencing and possible future searches.

In subject databases the full-text may be available in HTML and/or PDF format. You will find PDF format preferable for printing/saving and referencing quotations (due to it including page numbers).

If the database does not offer the full text then click the SFX to see if it is available in another database.

If there is no SFX option then use the Journal Finder function in your Subject Guide under the Articles/Databases tab to search for the journal title (not the article title).

If using Google Scholar ensure that it is set-up to retrieve full-text articles via the library databases (see the Google Scholar Guide).

If an article is available then a Get Full Text@EIT option will be displayed. Take note of the database it links to for referencing. I.e. it is not 'retrieved from Google Scholar.'

If you find an article that is not available via our databases then you can request an interloan.
Print journals
While most journals are available online, there are still some that are not. This is often the case with ones published in New Zealand.
Physical journals that we hold in the library are listed in your Subject Guide under the Articles/Databases tab. Clicking on the title will give you the call number to find them.
Searching within these journals is not as straight forward as online journals.

Some may be indexed on a subject database which you can search. If so, it should be noted on the box they are in on the shelf.
You can search most New Zealand published journals in the INNZ database.
Some journals may have a website where you can search the contents. If this is not listed in your Subject Guide then search for the journal title online.
Referencing
Here is how you should reference an article form a database and from an article from a print journal.
When referencing an article from a database check whether it has a doi  (digital object identifier). If so, you should use this for your retrieval statement instead of the database name (in some databases you may need to select citation to see this).

Some databases may have a cite function to help with referencing.

Note that you cannot rely on this function to always provide you with an accurate reference and you should check it against our guides to be sure.
---
If you require any further assistance finding articles and using the databases feel free to speak to a librarian.
Adam Smith
ph| (06) 974 8000, extension 6067
email| asmith@eit.ac.nz