There are two main places to search for books:
Primo: Searches the library's physical collection and most online resources.
ebook databases:

ebrary is EIT's main electronic book database and covers a wide range of subjects.
Safari is the ebook database for business, management, and computing ebooks.
Depending on your subject you may find other ebook databases in your Subject Guide.
---
Search example: To find Mason Durie's Whaiora: Maori Health Development, search in Primo using keywords (e.g., Mason Durie Whaiora).

The words are specific enough to find the book. However, the results will also include reviews and articles that discuss the book. You can use limiters on the left side of the screen to refine results and exclude the unwanted material (e.g., select the 'books' limiter).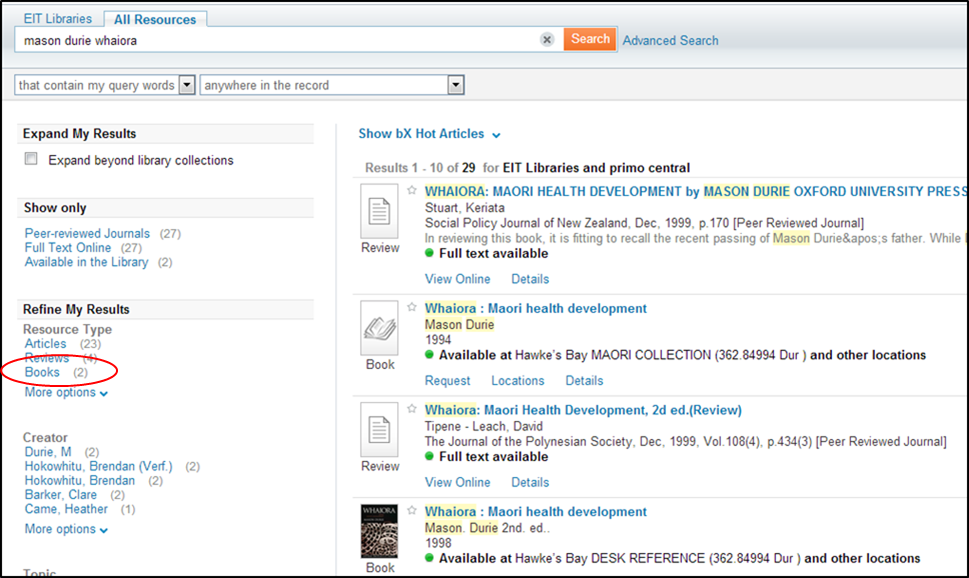 To reduce the number of results search for exact information. For example, search using the title by selecting in the title from the drop down menu under the search box.

You can also select with my exact phrase or enclose the title in speech marks so that Primo searches for the title as a phrase rather than as separate keywords.
You can select other fields to search in. For example, select as author/creator if you want to search for all books by Mason Durie.

To search in multiple fields select Advanced Search. For example, search for all books by Durie on Māori health.

Refine your search by selecting Books as the Material Type in the search options or by using the Refine My Results option after searching.

Check that the book you want is available. If it is checked out you can place a hold on it for when it is returned by selecting request (you will need to sign in for this).

Check where the book is located. There may be more than one copy, so it is a good idea to select locations.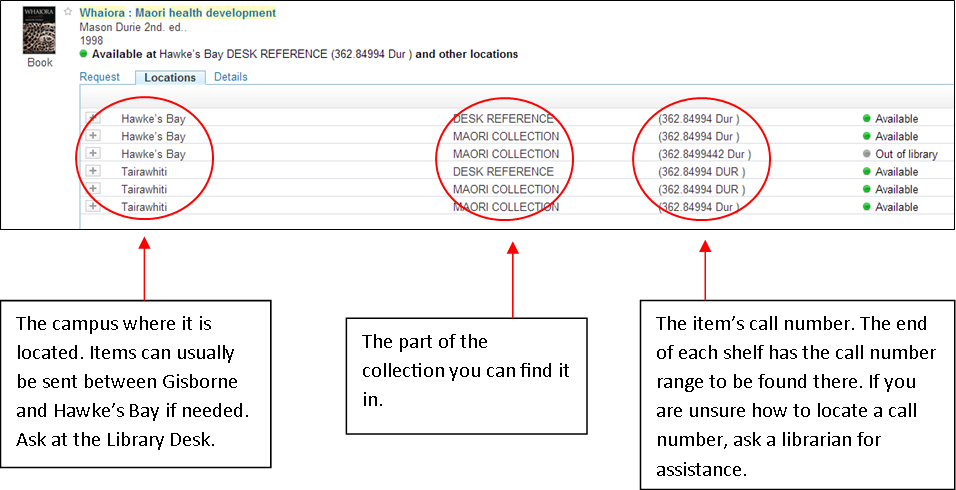 Tip: Some books will be available in more than one edition. Select view versions if displayed on the right to see which editions are available.
Many books are now available in an electronic format. If this is the case full text available will be displayed.
Click view online and then open source in new window.

Most of the electronic books available are from the ebrary database. Primo will not find all the books available from ebrary, so it is a good idea to conduct a separate search in ebrary or other ebook databases if you require electronic books.
Tip: Find other books by the same author or the same subject by using the links in the item record.
---
If you do not have a specific book in mind but want to find something for a topic you need to research, refer to the Searching Library Resources guide to help you construct effective searches for use in the above resources.

If you are unable to find a specific book we may be able to obtain it from another library for you. Use the Interloan request form.
---
If you require further help with finding resources please ask at the desk or contact the Information & Learning Technologies Librarian.
Adam Smith
ph| (06) 974 8000, extension 6067
email| asmith@eit.ac.nz