Books can contain a wide variety of information and fulfil many requirements. However, if you are not sure that the information you seek is best found in books, check the Resource Guide to see if there may be another resource that would be better suited for your purposes. For example, given the time it takes to publish a book, a journal article may be more fitting if you are after the most recent scholarship.
Where to look
Primo will find books held in the library as well as ebooks available through ebrary(our main ebook database). Primo can be found in the Subject Guides, or on the Library's homepage.
You may also want to search our ebook databases separately to ensure you are not missing any relevant texts. Primo will not necessarily search all our ebook databases. For example Safari which has business, technology and computing books.
Relevant ebook databases can be found in the Subject Guides.
Searching ebook databases separately will also allow you to search for your keywords in the texts, which Primo will not do.
How to search
When searching the above resources, analyse your topic and break it down into relevant keywords. The more on topic your keywords are, the better your results will be.

See our Search Tips for help using keywords and constructing an effective search.

If you are unsure of the correct terminology to use, look up your topic on Credo or Wikipedia to find relevant keywords and phrases.
Using fewer and/or broader keywords is often better when searching Primo as it does not search within the book itself.
You can search within books in ebrary, so you can be more specific with the keywords you use.

This is particularly useful for edited books, the contributed chapters of which you cannot normally search via Primo.

You can add keywords to help you find a specific type of book.

For example, if you want an introductory book, try keywords such as: introduction, beginner's, or guide.

If you have already found literature on your topic, it may help provide you with relevant terminology and other information such as theorists or authors that you may want to use in your searches.
Limiting your search
Primo will return numerous resource types, not just books.

You can limit this by using the limiters on the left hand side of the screen.
The EIT Libraries tab above the search window will limit the results to those held in the library.
Using Advanced Search allows you to restrict your search to books, as well as searching for your keywords in select fields.
Ebook databases are usually already limited to books. However, you may want to use the advanced search option to help limit your search to specific fields. A basic search will look for your keywords anywhere in the book, which can result in a large number of results.

For example, if searching ebrary you could search in the title or subject to help limit your search to more relevant material.

Clicking the + button will add another search box allowing you to search in multiple fields.
Evaluating your results
If your results do not include enough relevant books, the first thing to check is the keywords you are using.

Ensure you are using the correct terminology for your topic. Look up your topic on Credo or Wikipedia to help find relevant keywords.
There may be specific academic terminology you need to use. For example, most academic literature will refer to 'adolescents' rather than 'teenagers.'

If you have too many results, try adding extra keywords or searching in specific fields as mentioned above.
If you have too few results…

Try using broader terminology for your keywords. For example, "social media" rather than Facebook or Twitter.
 Or try using fewer keywords if you are using a number of them; exclude the least relevant.

Check that the dates of the results are relevant and adjust the date limiter as need be.

Primo allows you to select a date range whereas ebrary will allow you to sort by date, i.e. the newest or oldest first.

Think about the date range that best meets your information need.

For example, older books may be fine if you are after primary texts from theorists or for historical purposes.
If you are after the latest scholarship, you may need to look for journal articles.

When you find a relevant book, check the subject headings used. Clicking on any that are relevant will show you other books we hold on that subject.
Finding your book in the library
Check that the book you want is available. If it is checked out you can place a hold for when it is returned by selecting request (you will need to sign in for this).

You also need to check where the book is located. There may be more than one copy, so it is a good idea to select locations.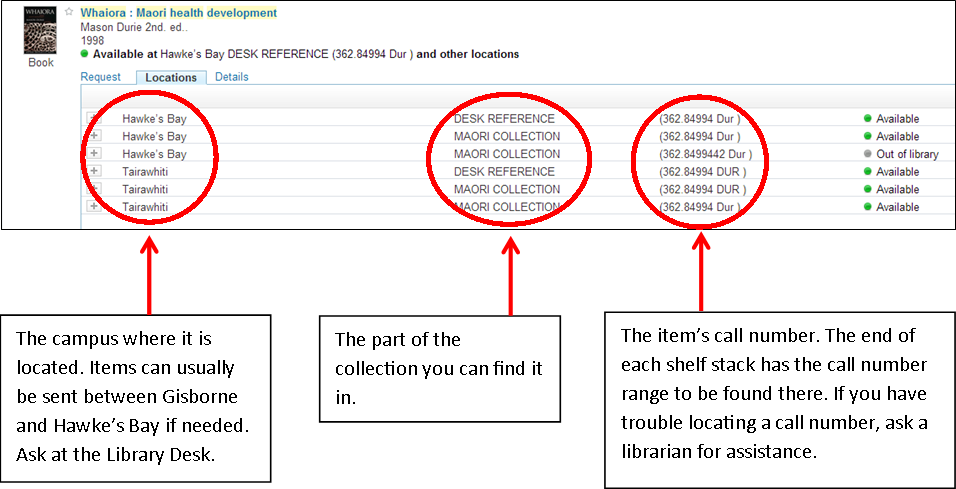 Some books will be available in more than one edition. Select view versions on the right to see what editions are available.

Reading a book in ebrary
Click on the title of the book you want in your search results
You can then read the book online or download it. If you want to download it you will need the Bluefire app. Ebrary will provide a link to download this.

Some books may not be available for download and you will have to read it online.

Ebrary also offers a number of functions to enhance your use of ebooks

Creating a personal bookshelf (you will need to create an account for this).
Searching within the book
Bookmarks, annotations, and highlighting.
Citation information for referencing.
You may still need to make some alterations, such as italicising the title and replacing the location with retrieval information. Check our APA Referencing guide to be sure.
---
If you require any further assistance feel free to speak to someone at the main library desk or contact the Information & Learning Technologies Librarian.
Adam Smith
ph| (06) 974 8000, extension 6067
email| asmith@eit.ac.nz