The EIT Library provides study and research facilities for students, staff and community members in a relaxed and friendly environment. Our librarians are available to assist students utilise a wide range of resources that support their studies. Computers and laptops are available for student use. General support with using EIT Online and other course related technologies is also available.
Twist Library & Learning Hub Hours (Hawke's Bay)
| | |
| --- | --- |
| February - November |   |
| Monday - Thursday | 8.00am - 8.00pm |
| Friday | 8.00am - 5.00pm |
| Saturday - Sunday | 10.00am - 4.00pm |
|   |   |
| December - January |   |
| Monday - Friday | 8.30am - 4.30pm |
Primo Search
Primo Search is the discovery tool that is used to locate books, journals and e-resources. For help using Primo see our Primo Search Guide. To renew items, check requests, loans and fines log-in to My Account.
Library Services
Finding Library Resources
Borrowing, Renewing and Reserving
Study Areas and Room Bookings
Photocopying and Printing
Location
Finding Library Resources
Library Databases
To find journal, magazine, and newspaper articles, as well as ebooks, consider searching the databases. If you are unsure which database is best for your programme use the databases that have been pre-selected for your programme on the subject guide pages.
Research Guides
For help finding books, journal articles, or information online, we have created a series of research guides. If you would like a librarian to help you contact Adam Smith, ph| (06) 830 1067 or email|asmith@eit.ac.nz
Subject Guides
The subject guides have been created so you can find articles, books, e-books and online information on a particular subject. They are a good place to start if you are unsure of which resource to use.
Borrowing, Renewing and Reserving
How do I join the Library?

Your Student ID Card is your library card and is available from the Library.
In order to have a card made you will need to present one of the following:

Last year's EIT student ID Card
EIT Login form
Fees invoice
EIT course Acceptance letter

You will not be issued with any library items unless you have your card with you.
If you lose your card, replacement ID cards cost $5.00.
What can I borrow and for how long?
| | | | |
| --- | --- | --- | --- |
| Item | Loan Period | Renewals | Overdue Fee |
| Books | 28 days | 3 | 20 cents per day |
| Books - Short term Loan | 7 days | 3 | 50 cents per day |
| Journals | 7 days | Unable to renew | 50 cents per day |
| CD/DVD | 7 days | 3 | 50 cents per day |
| Desk reference | 4 hours | Unable to renew | $50 |
| Laptops (mouse, charger) | 4 hours | Unable to renew | $50 |
| Projector | 4 hours | Unable to renew | $50 |
| Minor Equipment | 4 hours | Unable to renew | $50 |

We send out courtesy emails reminding you when your library books are due back. For EIT students these emails are sent to their EIT student webmail account. If you would like to change this to another email account click here.

Items marked "Reference" cannot be issued. You may have up to 30 items on issue at one time. Books and audio-visual items can be renewed up to 3 times, unless someone else has put in a request for the item.
How do I renew my books?
You may renew your Library items and keep them for longer, as long as no other borrower has a reserve on any of your items.
- There is a limit of 3 renewals on any item.
- Short term loan items will renew for an extra week.
- Four week loan items will renew for a further four weeks.

N.B. Interloan items must be renewed by contacting EIT Libraries directly rather than via Primo. Please contact us by email:twist@eit.ac.nz, or phone (06) 830 1040 or (06) 830 1045 to renew these items.
Instructions for Renewing your books [show | hide]
Login to My Account on Primo Search.   
Enter your Last Name and your Library Card number / Student ID number.
You may check your Account by selecting 'My Account' in the top right-hand corner of your screen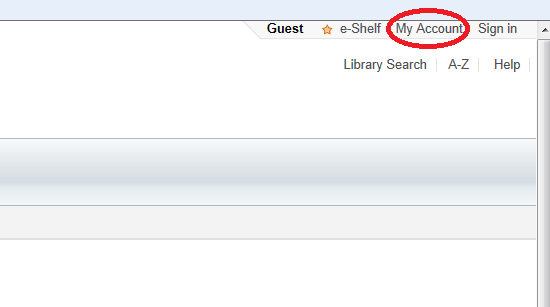 You may now select your items to renew.
You can either choose to tick the box and renew only selected items, or choose "Renew All" to renew everything you have.
If an item is on reserve for another person, or you have already renewed it three times, it will not be renewable.

Once you have renewed your chosen items. You will see the below message.

How do I reserve items?
Library items that are on loan to another borrower may be reserved. Once returned, we will notify you that your reserved item is now available.
Items will then be held for one week on our Reserves shelf for you.

You can place a reserve via Primo Search (using My Account). Or ask at the Library service desk for assistance.
Instructions for Placing a reserve [show | hide]
Login to My Account on Primo Search
Enter your Last Name and your Library Card number.
Search for the item you want. If it is out on loan ('Charged') to another library user, then you may place a reserve on it by selecting the 'Hold' option.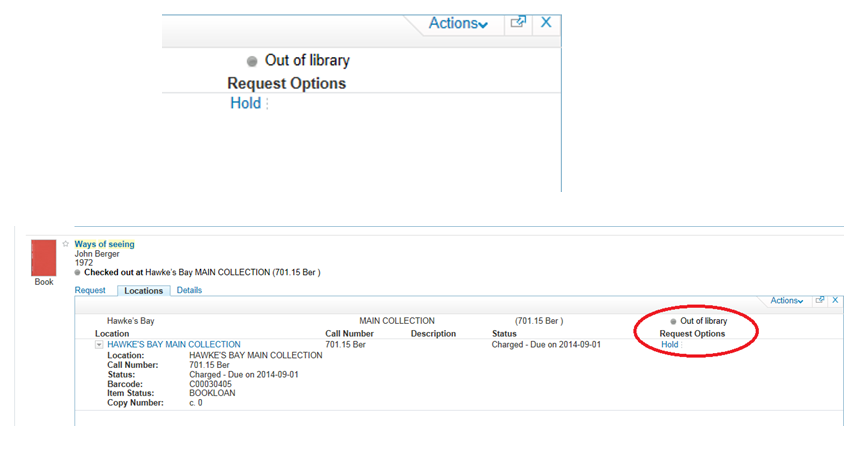 Now you can indicate the last date you will need the book by.
If there is more than one copy of the book you want, you will have the option to choose 'Any Copy'. Please select this option.
In the 'Comment' box please enter your mobile number and you will be texted when your item is ready to collect. If you prefer you may enter an email address. Now press the 'Hold' button to make your reserve.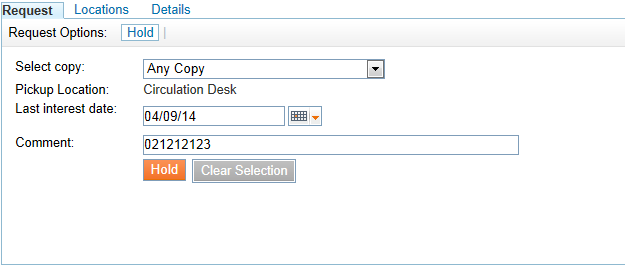 Your book has now been reserved and you will be notified when it is available for collection from the Library.
Can you get items from other libraries for me?
Yes. Interloan forms are available at the Desk or you can complete an Interloan Online Form.  Interloans take on average, a week to arrive, so please plan ahead when requesting.
What is Desk Reference?
Desk Reference is high demand material stored behind the Desk, which can be borowed for up to 4 hours with your ID card.
Distance Students
All students who have enrolled in a course as a Distance Student are able to use the Library Distance Service. Please advise us if your contact details change during your course. Click here to see the FAQs most commonly asked by our distance students. If there is something we have not covered send an email to: twist@eit.ac.nz or contact the Distance Librarian, Kym Kane at EIT on phone (06) 830 1040.
Study Areas and Group Study Rooms
A wide range of study spaces are available in the Library, Learning hub and the Atrium. Study spaces in the Library are for quiet study; the spaces in the Learning hub and Atrium have no noise restrictions.
Group Study Rooms

These rooms can be booked for up to 3 hours per day. Bookings can be made at the Desk.  The rooms are air-conditioned and contain whiteboards and audio visual equipment. Whiteboard markers are available on request. If you arrive more than ten minutes late for your booking the room may be given to another group.

Twist Library has ten rooms available for group study.Two of the group study rooms (3 & 4) are fitted out for collaborative online learning and contain five networked computers.
Photocopying & Printing
Photocopying
There are three photocopiers in the library, two in the learning hub area and one in the atrium.
Printing
There are many printers on campus, and in the library, learning hub and atrium. Instructions for printing on campus or using wireless printing are available here.
To photocopy or print you must load credit on to your papercut account using the PaperCut Docupos kiosk or by purchasing and redeeming a papercut voucher purchased at the library desk.
Photocopy and printing costs [show | hide]
| | | | |
| --- | --- | --- | --- |
| A4 | Black & white | Single-sided | 5 cents |
| A4 | Black & white | Double-sided | 9 cents |
| A3 | Black & white | Single-sided | 11 cents |
| A3 | Black & white | Double-sided | 19 cents |
| A4 | Colour | Single-sided | 35 cents |
| A4 | Colour | Double-sided | 62 cents |
| A3 | Colour | Single-sided | 44 cents |
| A3 | Colour | Double-sided | 78 cents |
Location
Contact Details Twist Library (Hawke's Bay)

501 Gloucester Street
Taradale, Napier 4112


Phone: (06) 830 1040 or
(06) 830 1045


Email: twist@eit.ac.nz